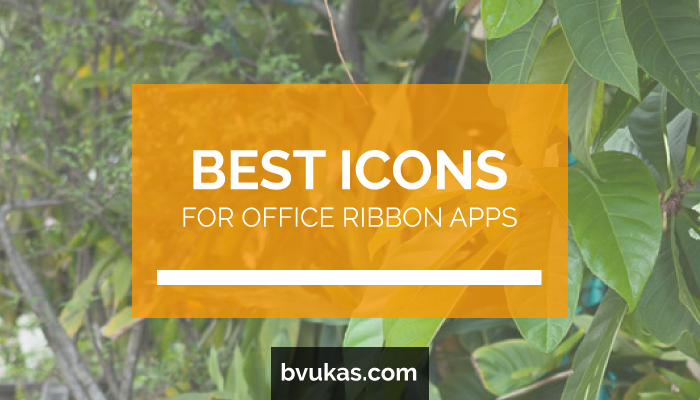 5 Best Icons Sets for Office Apps
Everyone has it happen at some point, right?
It's not that uncommon. No one has all the icons in the world. The truth is that we all struggle sometimes to find just the right icons.
And, if we rely on using the built-in icons in Office, we can run out of ideas. So what do you do when you want high-quality ribbon icons in your product?
In this post I provide you with a few free and paid options.
Using the Built-in Office Icons
Price: Free
Where: built-in your favorite Office application
When they first came out, they were crazy. The idea that you could pick any icon from the enormous Office ribbon repository, use it in your ribbon, and have it look just as great, that was awesome.
What I loved the most was that icons came in standard ribbon sizes (small and large), and there were lots to choose from.
Visual Studio Image Library
Price: Free
Where: https://www.microsoft.com/en-us/download/details.aspx?id=35825
The Visual Studio image library has been around since the early days of Visual Studio. The library contains thousands of icons that you can use in your ribbons and applications. The library contains application images that appear in Microsoft Visual Studio, Windows, the Office system and other Microsoft software.

The images are packaged in a zip file. Icons come in 16×16, 24×24, 32×32 sizes, 24 bit and 32 bit color depth, and bmp, icon, png, xaml and ai formats.
Along with a zip file there's a PDF where you can preview the icons, along with a description of formats and sizes available.
Glyfz Ribbon Icons
Price: $48-$349
Where: http://glyfz.com/
Glyfz is an icons vendor that specializes in Office ribbon icons.
Unlike the Microsoft supplied ribbon bar icons that may only be used in Office solutions, the Glyfz icons may be used in any application and you can be sure that, whatever icon you require, it will be available in all sizes.
Each set is provided in the standard ribbon bar sizes of 16×16 and 32×32 together with extended sizes of 24×24, 48×48 and 64×64 in alpha-blended PNG formats and in cold, hot and disabled states.
Sets are available across a range of areas, including: business, database, development, hardware & networking, imaging, multimedia, users, symbols, etc.
Axialis Stock Ribbon Icons
Price: €59
Where: http://www.axialis.com/stock-icons/
No time to make your own icons? Axialis stock icons provides a ready-to-use solution for your user interface needs with over 30,000 icons to choose from.
Here are the main facts:
30,531 Icons, 20 sets, pixel-perfect, ready-to-use, royalty-free
7 sizes: 64×64, 48×48, 40×40, 32×32, 24×24, 20×20, 16×16, RGB/A and RGB
Additional size 256×256 for hi-res illustrations
Normal, Hot, Disabled states. PNG, BMP, ICO files. Overlay icons.
Ready for WPF, Silverlight, MFC, VB…
Axialis also offers a free trial for their icons.
Fugue Icons
Price: Free
Where: http://p.yusukekamiyamane.com/
Yusuke Kamiyamane is a freelance icons designer based in Japan. His set includes 3,570 icons in PNG format (16×16 pixels) + 352 bonus icons. Icons are free if you include a proper attribution. For a fee of $69 you can get the original PSD's.
FamFamFam Ribbon Icons
Price: Free
Where: http://www.famfamfam.com/lab/icons/
FamFamFam provides over 700 free icons in 16×16 size, and across 4 sets.

Summary
In this post I outlined 5 most popular free and paid icon vendors that you can use when you need high-quality ribbon icons.
What was your experience like? Have you found any other ribbon icons not mentioned here? Let me know in the comments, and I'll include them in the list!
You must log in to post a comment.