Getting Started with Formula Pack
Hey there! Welcome to our Formula Pack community!
If you're new to Formula Pack and itching to get started, this Quick Start is for you.
In our Formula Pack Quick Start, you'll find:
Three easy steps to get started with Formula Pack:
Working with Formula Pack:
Downloading Formula Pack
You can download the Formula Pack installer from the Downloads section of our site.
Click the Free Download button.
When prompted, enter your e-mail address.
Check your e-mail to locate your download link, as well as the license product key.
Installing Formula Pack
Now that you have downloaded the Formula Pack installation files, it's time to install it.
Start the installer by double-clicking on the downloaded file.
Follow the steps in the installation wizard to complete the installation process.
That's it! You may now launch Excel where Formula Pack is already loaded.
Navigating the Formula Pack functions
To see what new functions are provided by Formula Pack, you can use the Formulas ribbon tab: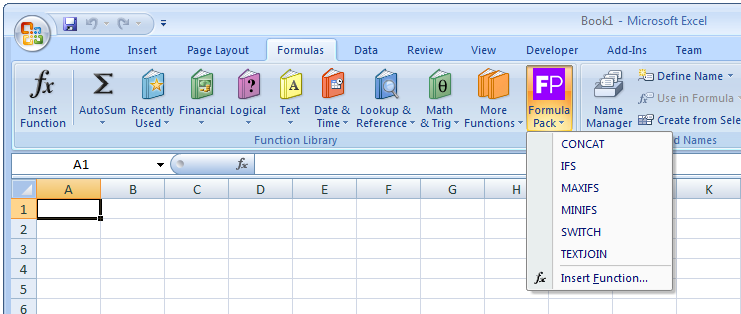 If you'd like to get help for a particular function, hover your mouse over it to retrieve the Help pop-up: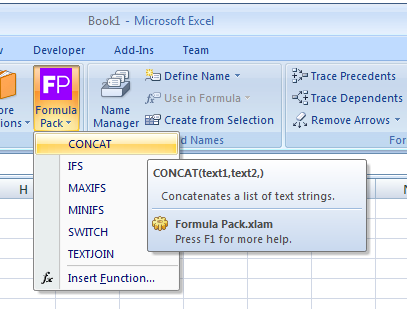 You may also locate the "Formula Pack" functions by using the Excel's Insert Function wizard:
On the Excel Ribbon, click on Formulas > Insert Function. This displays the "Insert Function" wizard.
Using the category dropdown, change the category from "Most Recently Used" to "Formula Pack".
Click on each of the functions to display its description and syntax.

Click on the "OK" button to proceed to enter function arguments, and to view help for each.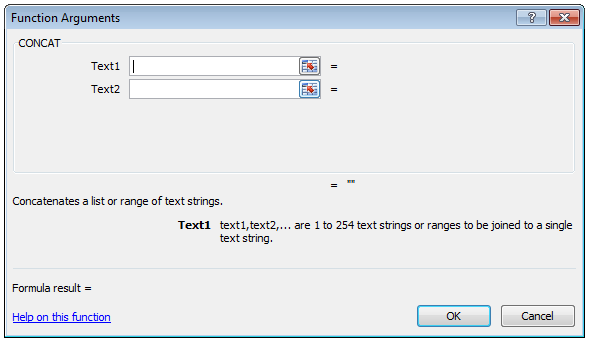 Excel for Mac 2011 users can insert formulas by using the Formula Builder: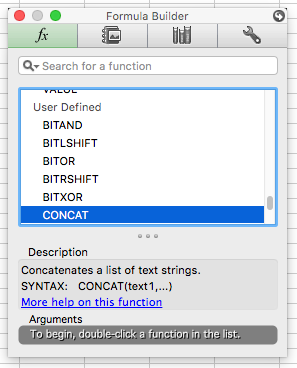 Excel for Mac 2016 users can access Formula Pack functions from the Formulas ribbon tab: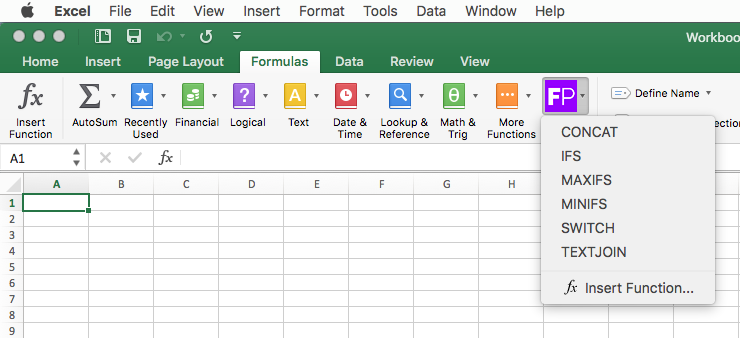 Note: On Mac, all formulas provided by Formula Pack are available under the "User Defined" section.
Getting Help
Detailed help is available by clicking on "Help on this function" link in Formula Wizard. This opens the offline help browser: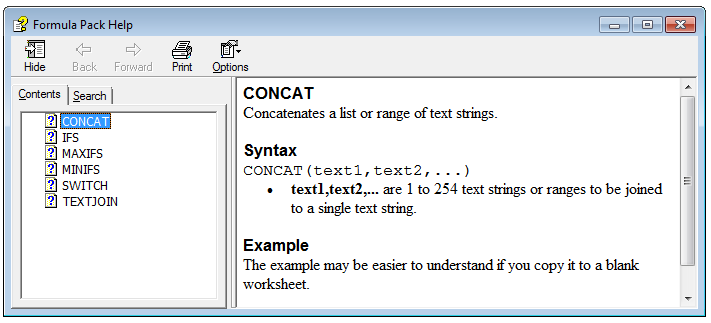 Getting Started
Create your first Formula Function
You use Formula Pack functions just like regular Excel functions. You may start typing the functions directly into the spreadsheet, or by using Excel's built-in Formula Wizard.
Updating Formula Pack
Your Formula Pack subscription includes automatic updates. When you're within your subscription term, you can download new updates immediately. Each time there's an update we'll also dispatch an e-mail to let you know.
Stay up to date with important Formula Pack news
You can follow us on Twitter or Facebook to keep up with updates, new releases, and special promotions.
Help Center
View our Formula Pack Help and Troubleshooting page for solutions to most common problems.
For Formula Pack subscribers within their 1 year period, open a ticket in our Help Center where one of our dedicated staff members will answer your question within 24 hours, Monday through Friday.
Tips for getting support
Include as much information you can — including what Excel version you're using, and the information about your operating system.
Be clear about your level of Excel knowledge — if you're a complete beginner or developer, don't be afraid to say so we can better guide you.
Have presale questions?
We're happy to answer any presale questions you might have! And don't hesitate to reach out with feedback or ideas you might have.